Alabama law bans abortion without exceptions for rape and incest
A group of 25 male Republicans in the Alabama senate voted on Tuesday to pass the US's strictest abortion law, banning all terminations at any stage of pregnancy, without exceptions for rape or incest. The legislation passed through the GOP-dominated state senate by 25-6, making it a class A felony for doctors to perform abortions. It must now be signed by the state's governor, Kay Ivey, and will almost certainly face an immediate court challenge that could result in it heading to the supreme court – arguably the intention of its backers, who seem to be hoping the court will end up overturning the 1973 decision that legalised the procedure across the US.
State bans. Alabama is one of more than a dozen US states where there have been attempts to outlaw abortion this year alone, and at least six other states have already passed blanket bans.
Hardline group. The national effort to push such bans has been orchestrated by a hardline anti-abortion group, Faith2Action, which has promoted "model legislation" to help individual states construct their bills.
'Terrifying' Ebola epidemic spirals amid conflict in DRC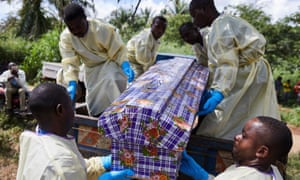 An out-of-control Ebola epidemic sweeping through a conflict-riven region of the Democratic Republic of the Congo could end up being as severe as the outbreak that devastated three west African countries from 2013 to 2016. Experts and aid agencies have warned they are struggling to contain the "massive" and "terrifying" outbreak, with new cases increasing at their fastest rate since the outbreak began last year, amid regular bursts of violence between armed groups in a region with no functioning government.
Historic outbreak. The Ebola outbreak in eastern DRC is already the second-largest in history, with more than 1,600 cases and almost 1,100 deaths. Here are the key facts about the epidemic and its context.
Local mistrust. The outbreak is being exacerbated by a mistrust of health workers, as Esdras Tsongo reports from Butembo, where the epidemic began.
The top British general in the US-led coalition against Isis has directly contradicted White House claims of an increased threat from Iran, exposing tensions among western allies as the US continues its military buildup in the region. Maj Gen Christopher Ghika said on Tuesday that there was no sign of a burgeoning threat from Iranian-backed forces in Syria or Iraq, but his statement was swiftly contradicted by US Central Command.
Putin meeting. A Kremlin spokesman said the Russian president, Vladimir Putin, "could not understand" the US policy of "maximum pressure" against Iran, as Putin met with the US secretary of state, Mike Pompeo, in Moscow on Tuesday.
Donald Trump Jr reaches deal to testify before Senate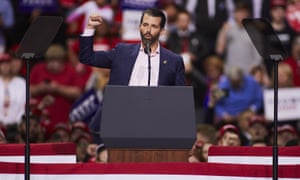 Donald Trump Jr has agreed to testify before the Senate intelligence committee at a closed-door session next month, after threatening to resist a subpoena to give evidence in the committee's Russia investigation. Meanwhile, the directors of the CIA and FBI are assisting the US attorney general, William Barr, in a new inquiry into the origins of the Mueller investigation. John Durham, the US attorney in Connecticut, will lead the inquiry, which was apparently prompted by Donald Trump's repeated accusations that the justice department and FBI unlawfully spied on his campaign.
Trade war. As his trade war with China continued to roil global markets on Tuesday, the president claimed the US's "great patriot farmers" – likely to be the first affected by new Chinese tariffs – would in fact benefit from the dispute.
Crib sheet
San Francisco has become the first US city to ban the use of facial recognition technology by police and other government agencies.
Single-use plastic contributes to greenhouse gas emissions at every stage of its life cycle – from production to its management as waste – and thus poses a serious climate hazard, a report warns.
The US National Labor Relations Board has ruled Uber drivers areindependent contractors, not employees, dealing a heavy blow to their campaign for greater rights and making it more difficult for drivers to organise for better working conditions.
Peruvian archaeologists have expressed outrage at plans to build a new international airport in the Inca town of Chinchero, designed to bring tourists directly to Macchu Picchu.
Source :