It may take days for the nearly 253,000 households and businesses who are still without electricity in Massachusetts to have their power restored, utility companies said Monday afternoon.
Sunday night's storm blanketed the state with high-speed winds and heavy rain, causing a peak of 320,000 outages this morning, the Massachusetts Emergency Management Agency said.
And while tens of thousands of outages have been fixed, neither Eversource or National Grid expect to complete restoration within the next day, MEMA said.
"Both companies anticipate restoration taking several days – – up to 48 hours for Eversource, and 72 hours for National Grid," the agency wrote in a situation report.
Both utilities are prioritizing damage assessment and clearing downed wires, and neither have yet produced specific restoration estimates, according to MEMA.
National Grid still had 226,000 customers without power as of 4:50 p.m.. Eversource had about 30,000 without power, nearly all of which were in Eastern Mass.
"This is a multi-day restoration effort and we may not have estimated restoration times for 24 hours in some communities as a result of continued damage assessment," National Grid said on Twitter.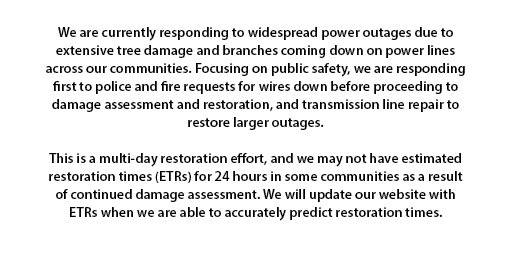 There may be some light at the end of the tunnel for customers in Western Mass., where large scale restorations are expected this evening, MEMA said. Five-hundred and forty-one of Eversource's Western Mass. customers remained without power as of 5 p.m.
It will be a longer road for the Central and Eastern parts of the state.
"Power may not be restored to homes for another one to three days. Accordingly, MEMA is encouraging people who do not have power to make appropriate plans," MEMA said in a statement. "Residents without power may wish to leave their homes until power is restored and stay with friends, family, neighbors, or in a hotel. Residents may also call their local public safety officials or 2-1-1 to find out if their community, or another community in their region, is operating a warming center or overnight shelter."
View image on Twitter