Thousands of revellers packed cities across the UK to see in the new year with fireworks captivating crowds in London and Edinburgh. Crowds took to the streets to join lively celebrations amid preparations by emergency services to tackle one of the busiest nights of the year.
The firework display in London featured a soundtrack dominated by women to mark the centenary of women being granted the vote, while cities around the world also had similarly impressive displays.
More than 100,000 ticket-holders watched the fireworks explode over the Thames to a soundtrack by Aretha Franklin, Annie Lennox, Ariana Grande, Dua Lipa and Florence Welch.
In Scotland the forecast of strong wind did not end up affecting Edinburgh's Hogmanay celebrations as the gales of up to 80mph confined themselves to other parts of the country. Tens of thousands saw in 2018 against the backdrop of Edinburgh Castle.
Underbelly, which was producing the event for the first time, promised the "best party ever" for the 75,000 people attending, with live music, DJs, street entertainment and the "ultimate fireworks display".
Meanwhile in New York, throngs of revellers braved the second-coldest New Year's Eve on record in New York to usher in 2018 as the glittering crystal ball dropped in Times Square.
The temperature was 10F (-12C), the chilliest celebration since 1917, when it was only 1F (-17C). Partygoers heeded warnings from authorities and wrapped up in extra layers, dancing and jogging in place to ward off the cold.
Mariah Carey successfully made it through her set on Dick Clark's New Year's Rockin' Eve with Ryan Seacrest after bungling it last year. Carey had technical difficulties during a live performance of her hit Emotions on the ABC show in 2016. She stopped singing, paced the stage and told the audience to finish the lyrics for her.
This year, she performed her 1990s hits Vision of Love and Hero and joked that it was a "disaster" when she could not get any hot tea.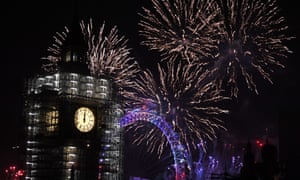 In Paris, throngs of locals and tourists headed to the Champs-Élysées to attend a fireworks show at the Arc de Triomphe. France's New Year's Eve celebrations were placed under high security, following a series of attacks by Islamic extremists in recent years, and 100,000 police officers and soldiers, along with 40,000 rescuers, were deployed across the country.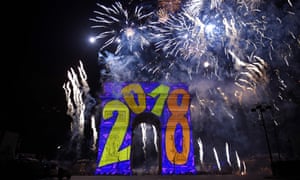 Germans also rang in the new year under tight security from police mindful of widespread sexual abuse of women in Cologne two years ago and of a terrorist attack on a Christmas market in 2016.
Police in Berlin put an extra 1,600 officers on duty and said that large bags and backpacks would not be allowed on the "Party Mile" leading from Brandenburg Gate, where thousands celebrated at midnight. Police in Frankfurt imposed similar restrictions in the celebration area along the river Main in the country's financial capital.
In Indonesia, hundreds of couples celebrated by getting married in Jakarta in a free mass wedding. The communal event, attended by 437 couples, was staged by authorities to ease residents' struggles with bureaucracy.
Many Jakartans cannot access public services because they have never legally been married, according to governor Anies Baswedan.
"If they want to celebrate their wedding anniversaries, they will not only celebrate it with their families but the whole world will celebrate with them because it coincides with New Year's," the governor said.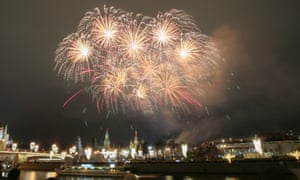 Celebrations in Russia were hampered by technical difficulties as Palace Square in St Petersburg was temporarily evacuated and a 25-metre (80ft) Christmas tree in the east of the country went up in flames.
In Moscow, the weather was less than festive. Usually blanketed with snow on New Year's Eve, the Russian capital this year was suffering a long spell of intermittent rain and constant grey skies, but that did not stop the spectacular fireworks display from going ahead as planned above Red Square.
In Dubai the 828-metre Burj Khalifa, the world's tallest building, once again served as the focal point of the new year celebrations in the United Arab Emirates, though this year authorities decided against fireworks and chose a massive LED light show.
HAPPY NEW YEAR: Dubai counts down the seconds to 2018 with a humongous building-sized display.

Follow all the celebrations live from around the world: https://t.co/fTMfaxjvF3 pic.twitter.com/Fpk0uACeT2

— ABC News (@ABC) December 31, 2017
The display, running down the east side of the tower, displayed Arabic calligraphy, geometric designs and a portrait of the late Sheikh Zayed bin Sultan Al Nahyan, the UAE's first president.
But a display of neighbouring nations' flags did not show Qatar's flag due to the ongoing dispute over ties to Iran and the alleged funding of extremist groups.
Meanwhile, India welcomed in the new year with midnight celebrations at popular landmarks, temples, mosques, gurdwaras and churches.
In Delhi, the festivities in Connaught Place came with heightened security as police conducted breathalyser tests, while emphasis was placed on ensuring the safety of women.
In Amritsar, the Golden Temple was lit up to mark the arrival of 2018. Although the festivities in Mumbai were expected to be somewhat muted following a blaze in a restaurant that killed 14 earlier this week, millions took to the streets and revellers appeared to be in high spirits on Marine Drive.
As the clock struck midnight in India, WhatsApp went down, hitting the messaging service's biggest market, with about 200 million of its billion-plus users. Many users expressed their frustration on social media although normal service resumed about an hour later.
Several hours earlier, fireworks lit up the sky above Sydney harbour for the city's new year celebrations, where an extravagant display included a rainbow waterfall cascade of lights and colour to celebrate the recent legislation legalising gay marriage in Australia.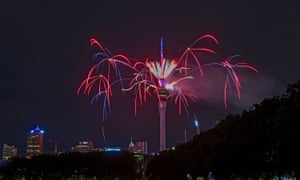 Security at the event was tight, but officials said there was no particular alert. It was estimated that almost half of those attending the celebrations were tourists.
In New Zealand, tens of thousands of people took to the streets and beaches, becoming among the first in the world to usher in 2018.
Fireworks boomed and crackled above city centres and harbours, and partygoers sang, hugged, danced and kissed. In Auckland, New Zealand's biggest city, tens of thousands gathered around Sky Tower as five minutes of nonstop pyrotechnics exploded from the top of the 220-metre structure.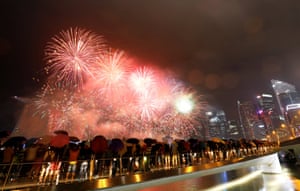 But on nearby Waiheke Island, 20 miles away, authorities cancelled a planned fireworks display because of drought conditions and low water supplies for firefighters.
In Singapore, people huddled under umbrellas to watch fireworks light up Marina Bay. Planned outdoor dance workouts and yoga reportedly had to be cancelled, but some still braved the weather to see in the new year.
Many Japanese people were celebrating the arrival of the Year of the Dog by praying for peace and good fortune at Shinto shrines, and eating traditional new year food such as noodles, shrimp and sweet black beans.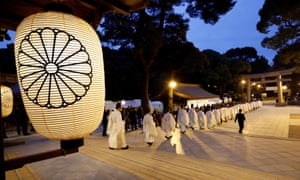 Barbecued beef and octopus dumpling stalls were set out at Tokyo's Zojoji temple, where people take turns striking the giant bell 108 times at midnight, an annual practice repeated at other Buddhist temples throughout Japan.
In South Korea, thousands of people were expected to fill the streets near Seoul's city hall for a traditional bell-tolling ceremony to usher in the new year.
The group of dignitaries picked to ring the old Bosingak bell at midnight included Soohorang and Bandabi – the tiger and bear mascots for the Pyeongchang Winter Games and Paralympics in February and March.