Doug Ford, the brother of troubled former Toronto mayor Rob Ford, has been elected premier of Canada's most populous province.
Mr Ford's centre-right Progressive Conservatives (PC) wrested control of Ontario from the Liberal Party for the first time since 2003.
The populist politician has drawn comparisons to US President Trump.
A former city councillor, he was close to his late brother Rob, who took infamously took drugs in office.
The Conservatives took 41% of the vote, winning 76 of 124 seats in the province with 99% of polls reporting, according to local media.
Prime Minister and Liberal Party leader Justin Trudeau offered his "sincere congratulations" to Mr Ford in a statement, tweeting that "Ontarians have voted for change".
Mr Ford, 53, is known for his plain-speaking style and attacks on media and the elites – whom he once described as "drinking champagne with their pinkies in the air".
The premier-designate has voiced support for Donald Trump, though he has dismissed the direct comparison and has been careful to avoid controversial comments during the hotly contested race for Ontario.
The final days of the campaign saw the PCs in a neck-and-neck battle with the left-leaning New Democrats, with most polls showing them holding a knife-edge lead over their rivals.
Mr Ford ran a populist campaign, promising to fight for "the little guy" and to make life more affordable for Ontario residents by cutting energy cost, slashing the price of petrol, and lowering provincial income tax.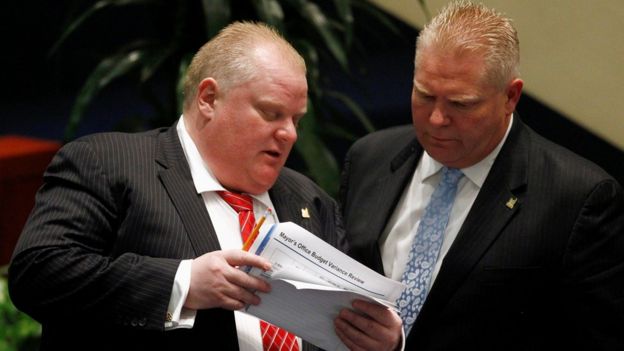 He also vowed to challenge federal carbon pricing plans and to repeal the province's cap-and-trade programme.
But he faced criticism for failing to fully explain to voters how he plans to cut C$6bn ($4.6bn; £3.4bn) from the province's budget.
Late in the election, his campaign was also rocked by a lawsuit filed by his brother's widow, Renata.
Rob Ford died in 2016 of a rare form of cancer.
In the claim, Renata Ford alleged Doug and another of his brothers, Randy, had mismanaged the family business and mishandled her late husband Rob's estate.
Both men denied the allegations, which have not been tested in court, with Mr Ford calling them "absolutely false" and "without merit".
As Toronto mayor, Rob Ford gained international notoriety for his scandals, outlandish public acts, and drug use, including admitting to smoking crack cocaine.
Rob Ford won the mayoral election in 2010 with votes from the so-called "Ford Nation" – a political movement of mainly suburban voters around Toronto that formed the core of his support.
During Rob Ford's time running Toronto, the brothers were inseparable, with Doug Ford once referring to himself as "co-mayor".
A businessman who inherited the family's label-making business, Mr Ford only recently entered provincial politics.
The PC party was forced to hold a last-minute leadership election in March after its former leader resigned over allegations of sexual misconduct.
Mr Ford entered and won the province leadership race, abandoning his plan to run for mayor of Toronto for the second time.