At least three people have been confirmed killed after a US passenger train derailed onto a motorway in Washington state during rush hour on Monday morning.
About 100 people were transferred to hospitals after most of the Amtrak train's carriages left the track.
A number of those injured are reported to be in a critical condition.
Authorities said all carriages had now been searched, but would not rule a rise in the number of dead.
Seven vehicles, two of them lorries, were hit on the I-5 highway below. It was not clear if anyone was hurt on the road itself.
It was Amtrak's first passenger service to run on a new, shorter route.
Train 501 had left Seattle, heading south for Portland, at 06:00 local time (14:00 GMT). The derailment happened on a section of track, south of Tacoma, previously only used for freight trains.
Authorities quoted by Associated Press earlier spoke of at least six people killed.
One passenger carriage could be seen dangling from the bridge, while others were strewn across the road and the wooded area next to the track.
A photograph released by Washington State Patrol showed one carriage upside down on the road, with wreckage all around it.
An Amtrak spokeswoman said the train had derailed at 07:33 local time (15:33 GMT).
There were 77 passengers and seven Amtrak crew members on board, she said.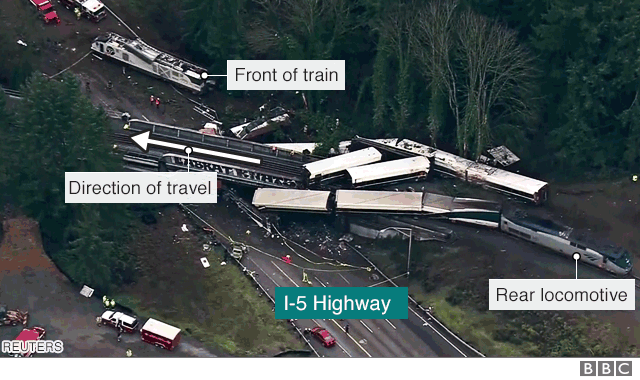 A recording of the train's emergency call to railway dispatchers was released to US media.
"Emergency! We are on the ground!" a man, possibly the conductor, radios in.
In a second radio call, another crew member reports that only the rear unit remains on the rails.
"All other cars appear to be on the ground in quite a mess," he says.
The train's engineer has a head injury, he tells dispatchers.
President Donald Trump's first reaction to the derailment was to tweet that it showed the need for his forthcoming infrastructure plan.
The train accident that just occurred in DuPont, WA shows more than ever why our soon to be submitted infrastructure plan must be approved quickly. Seven trillion dollars spent in the Middle East while our roads, bridges, tunnels, railways (and more) crumble! Not for long!

— Donald J. Trump (@realDonaldTrump) December 18, 2017
He later added that his thoughts and prayers were with those involved.
The section of track where the crash happened has been recently rebuilt and upgraded using federal funds.
Washington's governor has declared a state of emergency in two counties.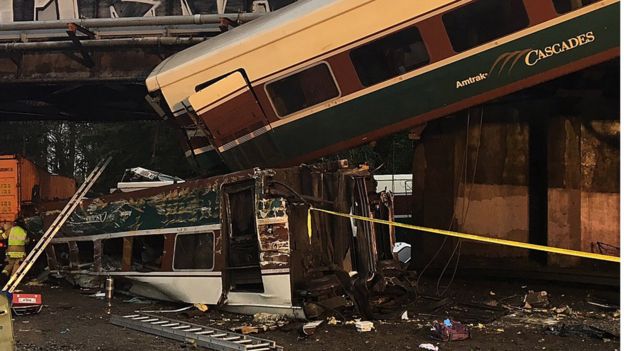 Passenger Chris Karnes, on board the train, said his carriage had careered down an embankment then come to a stop: "We could hear and feel the cars crumpling and breaking apart, and water came out from the ceiling."
"In order to get out… we had to kick out the emergency window," he added.
Governor Jay Inslee said he was praying for the many injured.
Today's tragic incident in Pierce County is a serious and ongoing emergency. Trudi and I are holding in our hearts everyone on board, and are praying for the many injured.

— Governor Jay Inslee (@GovInslee) December 18, 2017
Officials set up a family reunification centre at DuPont city hall and asked people not to come to the scene of the crash.
A local news reporter who was on the train, but got off at a stop just before the crash, said many of those on board were railway enthusiasts, keen to experience the first high-speed train on the new route.
Every passenger was given a commemorative lanyard and badge to mark their journey, he said.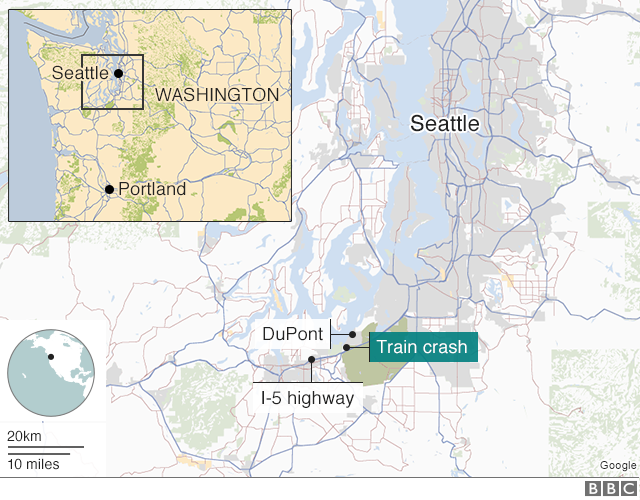 The National Transportation Safety Board is investigating. An Amtrak spokeswoman would not comment on how fast the train was going as it approached the bend, or on speculation that there might have been something on the tracks.
Photos from scene of amtrak passenger train derailment pic.twitter.com/gd09MzLCC6

— Pierce Co Sheriff (@PierceSheriff) December 18, 2017
What do we know about the train?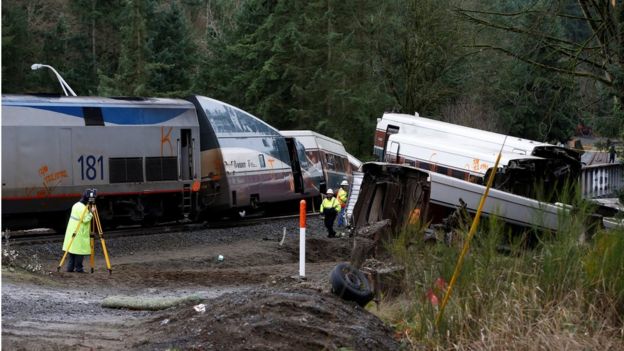 The train involved was operated by Amtrak and Monday's service was the first 0600 departure under the new timetable and on the new Point Defiance Bypass route
The train consisted of 14 cars, two of which were locomotives
It was being led by a Siemens Charger locomotive and was trailing a P52 unit which was not under power, Amtrak said
There were 12 Talgo carriages, each of which could take up to 36 passengers, but only 77 customers were on board