Some may think it the worst idea in the history of capitalism, an irresponsible stunt by a pyromaniac Willy Wonka, but for Earle Tabula there was no better feeling than buying a flamethrower.
"I love fire. I play with torches and gasoline all the time so this is the ultimate toy that I'll play with for all my life," he beamed, gripping his purchase. "I've bought a bunch of wood. I'm ready."
The tech billionaire initially proposed selling flamethrowers as a joke, yet here they were, in rectangular white boxes, priced at $500, with a queue of buyers snaking around SpaceX's headquarters pondering things to burn.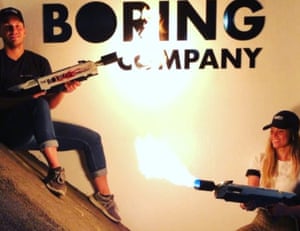 A mariachi band played while customers received instructions in an industrial yard. Then they took turns shooting flames four feet (1.2 metres) long, reducing impaled marshmallows to blackened cinders.
Jeremy Cross, 31, a film set caterer, said he felt bliss when he pulled the trigger. "I was freaking out. I was like, aaaaaaargh."
The Boring Company – Musk's tunneling enterprise – offered 20,000 flamethrowers for sale in January. They sold out within days despite sceptics calling them just fancy blowtorches.
A thousand customers were invited to the company's HQ, opposite SpaceX, to personally collect the first batch. The remaining 19,000 will be shipped. It is all legal, though to avoid shipping or customs snags, Musk has renamed the device "not-a-flamethrower".
"My friends and family don't believe I spent my wedding money on this," said Stephanie Carrillo, 31, a physical therapist, who dipped into cash gifts from her recent nuptials. "I thought it would be a really great item to have in the house."
Wind blew her hair close to the nozzle during the test firing, she said. "I'll pull my hair back when I do it in the future." Her husband, Joe Carillo, 31, an executive recruiter, said he would use the device to toast sandwiches in their yard. "We'll have to tie the dog up so he doesn't get in the way."
A wind-driven brush fire erupted north of Los Angeles, shutting freeways and prompting evacuations in a stark reminder that much of California is tinder-box dry and ripe for another devastating wildfire season.
That didn't dent the Santa's grotto atmosphere around SpaceX. Some people had flown in from Canada, others had driven for days from across the US to be part of what many considered libertarian-tinged whimsy.
Musk played that up in a series of tweets which included a Dr Seuss-inspired ditty about terms and conditions: "I will not use this in a house, I will not point this at my spouse, I will not use this in an unsafe way, the best use is creme brulee."
Terms & conditions for "Not-a-Flamethrower"

Please use as directed to avoid unintentionally burning things down. For simple & concise instructions, we drew upon wisdom in great Dr Seuss book "Green Eggs and Ham". #ThrowFlamesResponsibly pic.twitter.com/kgj8W8EOLJ

— Elon Musk (@elonmusk) June 9, 2018
The 10-page manual had additional tips: "Do not touch the not-a-flamethrower nozzle during or after use, as it could burn you. Wait at least two hours or until the not-a-flamethrower nozzle is cool before touching the nozzle. Do not point the not-a-flamethrower toward face, people, animals, or flammable objects. Always have a fire extinguisher and a bucket of water nearby."
Nothing makes your baby more zen than a few gentle puffs of a TBC Flamethrower pic.twitter.com/HewJf66hh2

— Elon Musk (@elonmusk) June 9, 2018
First 1000 Boring Company Flamethrowers being picked up today! pic.twitter.com/hBMp5fGzAB

— Elon Musk (@elonmusk) June 9, 2018
For Musk fans, the flamethrower is further evidence of business genius: the svengali of reusable rockets and Tesla electric cars has found an innovative way to raise funds for a company that wants to tunnel under LA to create a subterranean transit network.
Many planned to resell the flamethrowers, which are already fetching more than $2,000 on eBay. "Anything Elon Musk does is a collector's item," said Alex Shame, 52, an engineer.
Tudor Melville, 62, who owns an electrical company, drove his Tesla from Arizona to collect 10 flamethrowers, nine of which he plans to sell.
Children probably should not use them, he said. "Well, as long as they point in the air, it's fine." He added: "My family thinks I'm nuts."
Some misuse is inevitable, said buyers. "No doubt there'll be some bad eggs out there who do something stupid," said Carrillo.
Tabula, the fire-loving entrepreneur, said he had "a bad feeling" about abuses. That might explain, he said, why the Boring Company told customers to not open the boxes "until we were way off the premises".